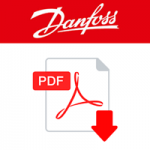 Control Panel VLT LCP 501
With the Control Panel VLT® LCP  501 being a full function interface, everything you can do on the VLT® Soft Starter MCD 500 is possible via the LCP 501.
Full control and monitoring The screen view set-up is selected from 7 standard  views and one user programmable.
Language selection: English, Chinese, German, Spanish, Portuguese, French, Italian, Russian.
The VLT® LCP  501 is connected to the MCD 500 by using a 3m cable using 9 pin (D-sub) plug and 3m cable provided with the IP 65 (NEMA 12) door-mount kit.
Once connected, the soft starter asks whether you want to copy parameters from LCP to starter or starter to LCP (if different).
Control Panel VLT® LCP 501
Same user interface as VLT® Soft
Starter MCD500
Plug & play with MCD500
Copy/ paste of parameters
Multiple monitoring setup
Door-mount kit – 3m cable
IP65 (NEMA 12
| Features | Benefits |
| --- | --- |
| Danfoss "FC" menu structure and button interface concept | – Proven logical access ensuring easy set-up |
| Parameter upload/ download | – Saves time, simplifies set-up |
| Same user interface as VLT® Soft Starter MCD500 | – Effective, simple and flexible |
| Adjustable multiple monitoring views | – You see what you want to see. |
| Door mount IP 65 (NEMA 12) | – Reliable in harsh environment |
| Speaks your language | – Comfortable setup |
| 3 metre cable | – Remote Operation |
| New output on MCD500 | – Simple to connect, Communication port on MCD500 available also with LCP |
100% easy connection
The Modbus, Profibus and Device net modules use another  port on the MCD 500 (at the side of the soft starter)
Separate LCP 501 output at the bottom for 9 pin plug and 3m cable
One ordering number (LCP with door-mount kit and cable)
Plug & play connection (also if soft starter is powered up)
One cable for power and communication
Powered up by soft starter
Copy of parameter set- up