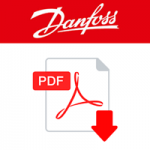 Heavy duty pressure controls Type MBC 5000 and MBC 5100
MBC pressure controls are used in industrial and marine applications where space and reliability are the most important features. MBC's are compact pressure controls, designed according to our block design to survive in the harsh conditions known from machine rooms onboard ships among others. BC's have high vibration resistance and MBC 5100 features all commonly marine approvals. The fixed, but low differential guarantees accurate monitoring of critical pressures. MBV test valves can be delivered as standard option for MBC.
Features
• Designed for use in severe industrial environments
• High vibration stability
• Part of the Danfoss block system, consisting of MBC pressure controls, MBS pressure transmitters and MBV test valves
• MBC 5100 with all major ship approvals
• High repeatability
• Optimal compact design for machine building purposes
• Intended for alarm indication, shut down, control and diagnostics in many applications – motors, gears, thrusters,
pumps, filters, compressors etc.
Approvals
EN 60947-4-1
EN 60947-5-1
China Compulsory Certificate, CCC
Ship approvals, Type MBC 5100
Lloyd's Register of Shipping, LR
Germanischer Lloyd, GL
Registro Italiano Navale, RINA,
Nippon Kaiji Kyokai, NKK
Det Norske Veritas, DNV
Bureau Veritas, BV
American Bureau of Shipping, ABS
Korean Register of Shipping, KR
Russian Maritime Register of Shipping, RMRS
China Classification Society, CCS
Technical data
Performance
Repeatability
Bellows versions
± 0.2 % FS (typ.)
± 0.5 % FS (max.)
Repeatability
Diaphragm versions
± 0.5 % FS (typ.)
± 1 % FS (max.)
Repeatability
Piston versions
± 1 % FS (typ.)
± 1 % FS (max.)
Response time
< 4 ms
Max. switch frequency
10/min (0.16 Hz)
Differential
see page 3
Permissible operating pressure
see page 3
Burst pressure
see page 3
Life time
Mechanical for diaphragm and bellows
> 400,000 cycles
Life time
Mechanical for piston type
>1 million cycles
Life time
Electrical at max. contact load
> 100,000 cycles
| Electrical specifications | | | | |
| --- | --- | --- | --- | --- |
| Switch | | | | SPDT |
| Contact load | AC 1 | 10 A, 250 V | AC 15 | 0.5A, 250 V |
| Contact load | AC 3 | 3A, 250 V | DC 13 | 12 W, 125 V |
| Environmental conditions | | | |
| --- | --- | --- | --- |
| Temperature | Operation | Bellows versions | -40 to +85 °C |
| Temperature | Operation | Diaphragm versions | -10 to +85 °C |
| Temperature | Operation | Piston versions | -40 to +85 °C |
| Temperature | Transport | Bellows versions | -50 to +85 °C |
| Temperature | Transport | Diaphragm versions | -50 to +85 °C |
| Temperature | Transport | Piston versions | -40 to +85 °C |
| Enclosure | | | IP 65, IEC 529 |
| Vibration stability | Sinusoidal | 20 g, 25 Hz – 2 kHz | IEC 68-2-6 |
| Vibration stability | Sinusoidal | piston type 4.4g, 25-200 Hz | IEC 60068-2-27 |
| Mechanical characteristics | | |
| --- | --- | --- |
| Pressure connection | Standard | G/4 female (ISO 228/1) or flange 1 |
| | Option | see specification form, page 3 |
| Electrical connection | Plug | DIN 43650, Pg 9 / Pg 11 / Pg 13.5 |
| Wetted parts material | Housing | Anodized AIMgSi1 |
| | Bellows | Stainless steel 1.4306 (18/8) |
| | Diaphragm | Viton |
| | Piston | Stainless steel 1.4028 (3H13) |
| | O-ring | NBR |
| Enclosure material | Housing | AIMgSi1 |
| | Plug fixture | Glass filled polyamid, PA 6.6 |
| | Contact system | Silver (AG) microprofile |
| Weight | | 0.4 kg |
Electrical connection

Adjustment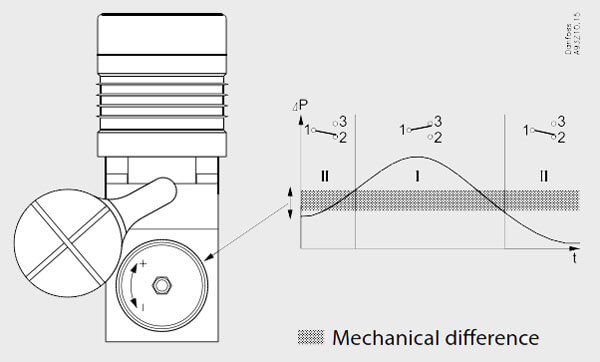 Mechanical connection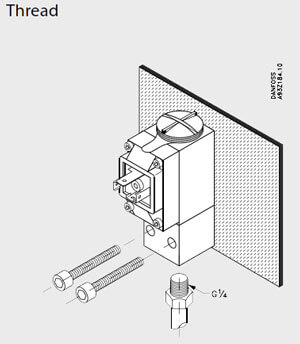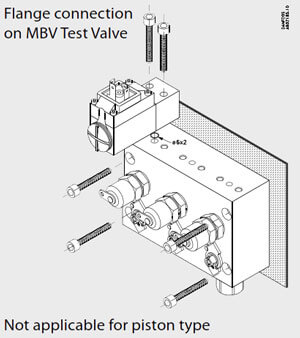 How to choose
To achieve the best operating conditions for MBC pressure controls, it is recommended to apply the following rules of thumb:
Choose:
• the MBC type/types which meet the demands for the operating pressure
• the MBC version with the lowest possible setting range
• a diaphragm type, if pressure peaks and pulsations occur in the system (if possible)
• bellows types, if low differential is needed
• piston type for high pressure
Ordering standard types
| Type:LP = Low pressure HP = High Pressure | Setting range Pe [bar] | Fixed differ- ential Pe [bar] (typ) | Permissible operating pressure Pe [bar] | Min. burst pressure Pe [bar] | Type designation MBC 5000-/ MBC 5100- | MBC 5100 Ship approved Code no. | MBC 5000 StandardCode no. |
| --- | --- | --- | --- | --- | --- | --- | --- |
| LP bellows | -0.2 to 1 | 0.15 to 0.451) | 15 | 30 | 1011-1DB04 | 061B000566 | 061B200566 |
| LP bellows | -0.2 to 4 | 0.15 to 0.451) | 15 | 30 | 1211-1DB04 | 061B0004662 | 061B200466 |
| LP bellows | -0.2 to 10 | 0.15 to 0.601) | 15 | 30 | 1411-1DB04 | 061B0002662 | 061B200266 |
| LP bellows | -0.2 to 10 | 0.15 to 0.601) | 15 | 30 | 1411-1CB04 | 061B000066 | 061B200066 |
| LP bellows | 0.5 to 3 | 0.15 to 0.301) | 15 | 30 | 2011-1DB04 | 061B002966 | |
| LP bellows | 1 to 6 | 0.15 to 0.451) | 15 | 30 | 2211-1DB04 | 061B000766 | |
| HP bellows | 5 to 30 | 0.40 to 1.51) | 45 | 90 | 3421-1DB04 | 061B0003662 | 061B200366 |
| LP diaphragm | 0.5 to 3 | 0.25 to 0.801) | 150 | 300 | 2031-1DB04 | 061B101766 | |
| LP diaphragm | 1 to 6 | 0.30 to 2.01) | 150 | 300 | 2231-1DB04 | 061B100966 | |
| LP diaphragm | 1 to 10 | 0.30 to 2.01) | 150 | 300 | 2431-1DB04 | 061B1004662 | 061B300466 |
| LP diaphragm | 5 to 20 | 0.4 to 2.51) | 150 | 300 | 3231-1DB04 | 061B1002662 | 061B300266 |
| LP diaphragm | 5 to 25 | 0.4 to 2.51) | 150 | 300 | 3331-1DB04 | 061B102466 | |
| HP diaphragm | 5 to 40 | 1.0 to 7.01) | 150 | 300 | 3641-1DB04 | 061B1005662 | 061B300566 |
| HP diaphragm | 10 to 100 | 1.7 to 141) | 150 | 300 | 4241-1DB04 | 061B1003662 | 061B300366 |
| HP piston | 16 to 160 | 12 to 301) | 600 | 1200 | 5251-1CB04 | 061B510066 | 061B500266 |
| HP piston | 25 to 250 | 12 to 401) | 600 | 1200 | 5451-1CB04 | 061B510166 | 061B500166 |
| HP piston | 40 to 400 | 15 to 501) | 600 | 1200 | 5651-1CB04 | 061B510266 | 061B500066 |
Ordering customized types
Dimensions